Roofing Installation
A well functioning, maintained roof heads off leaks, increases energy efficiency and is a beautiful crowning touch to your home.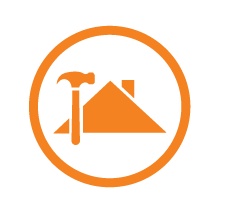 Why should you install a new roof?
An old and damaged roof looks unsightly, and more importantly it cannot protect the interior of your home if the shingles are missing, loose, curling, cracked or compromised by algae. Damaged or missing flashing, rotting fascia and decks are also clues it's time for a roof repair. The benefits of a new roof are threefold. It provides long-lasting protection; improves ventilation and energy efficiency, and it greatly increases the curb appeal of your home. The Home Depot has a wide selection of premium quality shingles so that you can achieve the look you want at a price that fits your budget.

Replacing a roof is not just about new shingles, it's about installing a complete roofing system that will protect your most valued asset for years to come. But before you install the roof components, you'll need to remove all of the old roofing, evaluate the roof deck for damage and make any repairs. Then you'll need to install a leak barrier, which is a self-adhering waterproof membrane that helps protect the most vulnerable areas of the roof.

GAF Lifetime Roofing System Components
Why should you install a new roof with
Home Depot Installations?
Every single team member, from our project coordinators to our roofing installation experts are highly skilled and insured professionals
Our team members receive ongoing training on product knowledge and installation protocols so that they are fully able to assess your needs, pinpoint problem areas, and come up with a detailed installation proposal for your roofing project. The completion of your project is executed by a dedicated team of installers and constant customer support.
We follow a clear and transparent 3-step process that will make the project a simple and enjoyable experience for you.
3 Steps to Your Ideal Roofing Installation
Free In-Home Consultation
At a pre-scheduled time, a professional Home Depot Installations Sales Consultant will visit your home to discuss your roofing needs and preferences in detail, and develop a clear roofing installation plan that fits your budget. You will be shown samples of actual roofing styles and colours and given an overview of product features, benefits and comparisons. Your consultant will also perform a roofing inspection and take accurate measurements for your new roof. You will be provided with a detailed, written estimate at the end of the consultation so that you are able to make an informed decision.
Professional Installation
You will be assigned a project coordinator, who will be your main point of contact throughout your entire roofing project. Your coordinator is there to streamline the project and make everything easy for you. He/She will arrange for your new roofing materials, schedule your installation date, inform you of any updates and prior preparations you need to make, and answer any questions you have. Please note that weather conditions may impact the scheduled installation date and the duration of the project.
Trained installation professionals will expertly install your new roof while respecting the privacy of your home at a time that is convenient for you. Your old roof will be removed and taken away to be recycled if possible. At all times, our installation professionals will maintain a safe work site, and ensure a thorough cleanup so that your landscaping and lawn remains in its original state.
Follow-Up
Your satisfaction is our #1 priority. Once your project is complete, your installation team will perform a thorough clean-up of your home and will make sure that you are happy with the work that has been done.